Shops at the Airport
Chopin Airport has a large number of stores. That means passengers can buy there everything they need - regional gifts, alcohol, cosmetics, tobacco, sweets, snacks and even toys for children (like Lego).

The prices of drinks and food are often higher than outside the airport. From another side, passengers can buy alcohol, perfumes and tobacco more cheap.

There are also shops with the goods of well-known brands at the airport, including Armani, Furla, Mont Blanc, Hugo Boss, Michael Kors, Ralph Lauren, Victoria's Secret and other. There is also a Samsung salon with the latest offers here.

The Chopin airport's shops is situated in the zone between security control zones and aircraft exits.
Arrival level
AELIA ARRIVAL
Cosmetics, perfumes, alcohol, food products, sweets and drinks, children's goods
Location: luggage pick-up area
Working hours: 6:30 - 22:30
Tel.: +48 506 220 688
E-mail: info@aelia.pl




1 MINUTE
Food articles, tobacco products, sweets and drinks
Location 1: arrival level (+100), Hall Public, exit 1
Working hours: 05:00 - 23:30
Location 2: arrival level (+100), Hall Public, exit 2
Working hours: 24h
Tel.: (22) 572 32 00
E-mail: office@lagardere-tr.pl

RELAY - KWIACIARNIA
Souvenirs and gifts
Location: arrival level (+100), Public access hall, exit 1
Working hours: 04:00 - 23:00
Tel.: (22) 572 32 00
E-mail: office@lagardere-tr.pl

AELIA BEAUTY
Travel accessories, cosmetics, perfumes
Location: arrivals hall
Working hours: 6:30 - 22:30
Tel.: +48 506 220 688
E-mail: info@aelia.pl

RELAY
Press, books and music, food articles, tobacco products
Location: arrivals level, Hall Public, exit 2
Working hours: 05:00 - 23:30
Tel.: (22) 572 32 00
E-mail: office@lagardere-tr.pl
Departure level, Schengen area


AELIA DUTY FREE
Alcohol, tobacco products, food products, sweets and beverages. regional products, goods for children
Location: departure level (+200), Schengen Area, Central Zone
Working hours: from first to last flight
Tel.: (22) 270 72 86
www.aeliadutyfree.pl
E-mail: info@aelia.pl

AELIA LAST MINUTE
Travel accessories, alcohol, tobacco products, food products, regional products, sweets and beverages, jewelry and watches, electronics, perfumes, cosmetics, souvenirs and gifts,
Location: departure level (+200), Schengen Area, Southern Pier
Working hours: 4:00 - 23:00
Tel.: (22) 270 72 77
www.aeliadutyfree.pl
E-mail: info@aelia.pl

AELIA MULTISTORE
Alcohol, tobacco products, jewelry and watches, cosmetics, fashion and accessories, perfumes
Location: departure level (+200), Schengen Area, Central Zone
Working hours: from first to last flight
Tel.: (22) 270 72 70
www.aeliadutyfree.pl
E-mail: info@aelia.pl




DISCOVER POLAND
Regional products, alcohol, food products, sweets and drinks, souvenirs and gifts, cosmetics, travel accessories, newspapers, books and music, children's goods
Location: departure level (+200), Schengen Area, Central Zone
Working hours: 24 hours
Tel.: (22) 572 32 00
E-mail: office@lagardere-tr.pl

DROGERIA
Cosmetics, personal hygiene, products necessary for travel, children's goods
Location: departure level (+200), Schengen area, exit gate 30
Working hours: from first to last flight
Tel.: (22) 273 90 73

KRAKOWSKI KREDENS
Alcohol, food products, sweets and drinks, souvenirs and gifts
Location: departures level (+200), Schengen area
Working hours: 05:00 - 23:00
Tel.: (22) 276 31 47

LE CONNAISSEUR
Alcohol, tobacco products
Location: departure level (+200), Schengen Area, Central Zone
Working hours: from first to last flight
Tel.: (22) 270 72 81
E-mail: info@aelia.pl

LEGIA FAN STORE
Sporting goods, jewelery and watches, souvenirs and gifts
Location: departure level, Schengen Area, Central Pier
Working hours: 5.00 - 22.00
E-mail: sklep.lotnisko@legia.pl




PREMIUM FOOD GATE
Alcohol, food products, sweets and drinks, souvenirs and gifts
Location: departure level (+200), Schengen Area, Central Zone
Working hours: 04:00 - 23:00
Tel.: (22) 572 32 00
E-mail: office@lagardere-tr.pl

RELAY
Press, books and music, food articles, tobacco products
Locations:
1st departures level, Schengen Area, Southern Pier
2. departures level, Schengen Area, Central Pier
Working hours: 04:00 - 22:00
Tel.: (22) 572 32 00
E-mail: office@lagardere-tr.pl

THE FASION GALLERY
Jewelery and watches, fashion and accessories, perfumes
Location: departure level (+200), Schengen Area, Central Zone
Working hours: 4:00 - 23:00
Tel.: (22) 270 72 78
E-mail: info@aelia.pl

THE TRAVEL STORE
Travel accessories, fashion and accessories, newspapers, books and music, children's goods, electronics
Location: departure level (+200), Schengen Area, Southern Pier
Working hours: 04:00 - 23:00
Tel.: (22) 572 32 00
E-mail: office@lagardere-tr.pl

TOY'S STORE
Travel accessories, cosmetics, jewelry and watches, children's goods, electronics, souvenirs and gifts
Location: departure level (+200), Schengen Area, Southern Pier
Working hours: from first to last flight
Tel.: (22) 270 72 82
E-mail: info@aelia.pl

VICTORIA'S SECRET
Fashion and accessories, cosmetics, perfumes
Location: departure level (+200), Schengen Area, Central Zone
Working hours: from first to last flight
Tel.: (22) 270 72 80
E-mail: info@aelia.pl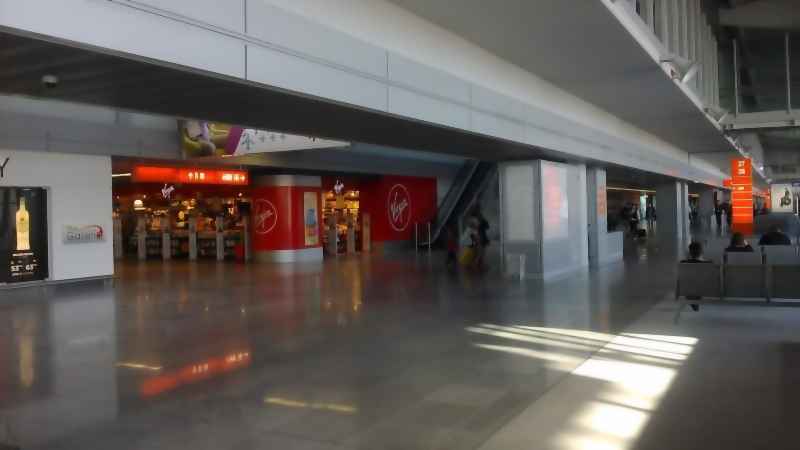 VIRGIN
Regional products, souvenirs and gifts, children's goods, newspapers, books and music
Location: departure level (+200), Schengen Area, Central Zone
Working hours: 24 hours
Tel.: (22) 572 32 00
E-mail: office@lagardere-tr.pl

W.KRUK
Jewelry and watches
Location: departure level (+200), Schengen Area, Central Zone
Working hours: 6:00 - 22:00
Tel.: (22) 650 20 98

YOUR FASHION STORE
Fashion and accessories, perfumes
Location: departure level (+200), Schengen Area, Central Zone
Working hours: 4:00 - 23:00
Tel.: (22) 650 57 60
E-mail: fashion@aelia.pl
Departure level, non-Schengen zone
AELIA LAST MINUTE
Travel accessories, alcohol, tobacco products, food products, regional products, sweets and beverages, jewelry and watches, electronics, perfumes, cosmetics, souvenirs and gifts
Location: departures level (+200), Non-Schengen Zone, Northern Pier
Working hours: 4:00 - 23:00
Tel.: (22) 270 72 77
www.aeliadutyfree.pl
E-mail: info@aelia.pl

JUBILER
Jewelry and watches
Location: departures level (+200), Non-Schengen Zone, Northern Pier
Working hours: 6:00 - 22:00
Tel.: (22) 650 51 04
e-mail: nonschengen@jubiler.art.pl

JUMP
Artykuły sportowe
Location: Strefa Non-Schengen
Working hours:
November - February from 5:00 to 21:00, March - October from 4:00 to 22:30
Tel.: +48 22 650 60 97
E-mail: office@lagardere-tr.pl

KERANISS
Alcohol, tobacco, cosmetics, perfumes, food products, regional products, sweets and drinks, children's goods
Location: departures level (+100), Non-Schengen Zone, Northern Pier
Working hours: 05:00 - to the last passenger
Tel.: (22) 650 23 16
E-mail: keraniss@keraniss.com.pl




RELAY
Press, books and music, food articles, tobacco products
Location: departures level, Non-Schengen Zone, Northern Pier
Working hours: 04:00 - 22:00
Tel.: (22) 572 32 00
E-mail: office@lagardere-tr.pl

WORLD OF BEAUTY & ART
Fashion and accessories, jewelery and watches, cosmetics
Location: departures level (+200), Non-Schengen Zone, Northern Pier
Working hours: 06:00 - 21:00
Tel.: (22) 572 32 00
E-mail: office@lagardere-tr.pl

AELIA DUTY FREE mały mul­ti­store
Perfumes and cosmetics, alcohol, tobacco and cigarettes, sweets
Location: terminal 2, Non-schengen zone

Departure level, public hall
RELAY
Press, books and music, food articles, tobacco products
Locations:
1st departures level, Public Hala, zone A
2nd departures level, Public Hala, zone C
Working hours: 04:00 - 22:00
Tel.: (22) 572 32 00
E-mail: office@lagardere-tr.pl

VIRGIN
Regional products, souvenirs and gifts, children's goods, newspapers, books and music
Location: departure level (+200), Public access hall, zone B
Working hours: 04:00 - 23:00
Tel.: (22) 572 32 00
e-mail: office@lagardere-tr.pl

INMEDIO
Travel accessories, food products, sweets and drinks, newspapers, books and music, baby goods, fashion and accessories, tobacco products
Location: departure level
Working hours: round the clock
Tel.: (22) 572 32 00
E-mail: office@lagardere-tr.pl
Observation terrace
GIFT SHOP
Travel accessories, baby goods, fashion and accessories, souvenirs and gifts, sweets and drinks
Location: Observation terrace
Working hours: 08:00 - 20:00
Tel.: (22) 572 32 00
E-mail: office@lagardere-tr.pl
Railway station
HUBIZ
Alcohol, food products, sweets and beverages, tobacco products
Location: Railway station
Working hours: 6:00 - 22:00 from Monday to Saturday, from 8:00 to 20:00 on Sundays